Here We Go Again:
Postage rates due to increase January 27, 2019
Once again the USPS will be increasing rates at the end of January.  Overall rates are increasing by 2.5% however the increase is anything but "even" across all rate classes.  Here is how the increase breaks down.
Retail First Class Mail (stamps)
One ounce, stamped letter mail is increasing 10% from $0.50 to $0.55 while one ounce flat rates remain unchanged. The news however isn't all bad.  The additional ounce rates are decreasing anywhere from 1.4% to 20.5%.  Post card rates also remain unchanged.
Metered First Class Mail
First Class Metered letter mail is increasing 6.4% from $0.47 to $0.50 while additional ounce rates are also decreasing in this rate class.

First Class Commercial Mail
First Class Commercial Mail is increasing 0.2% - 3.1% depending up on category.  Commercial postcards remain unchanged.

Marketing Mail (formerly Standard Mail)
Marketing Mail letter rates are increasing at approximately 2% while flats are increasing anywhere from 2% - 6%. Nonprofit rates are increasing by similar percentages.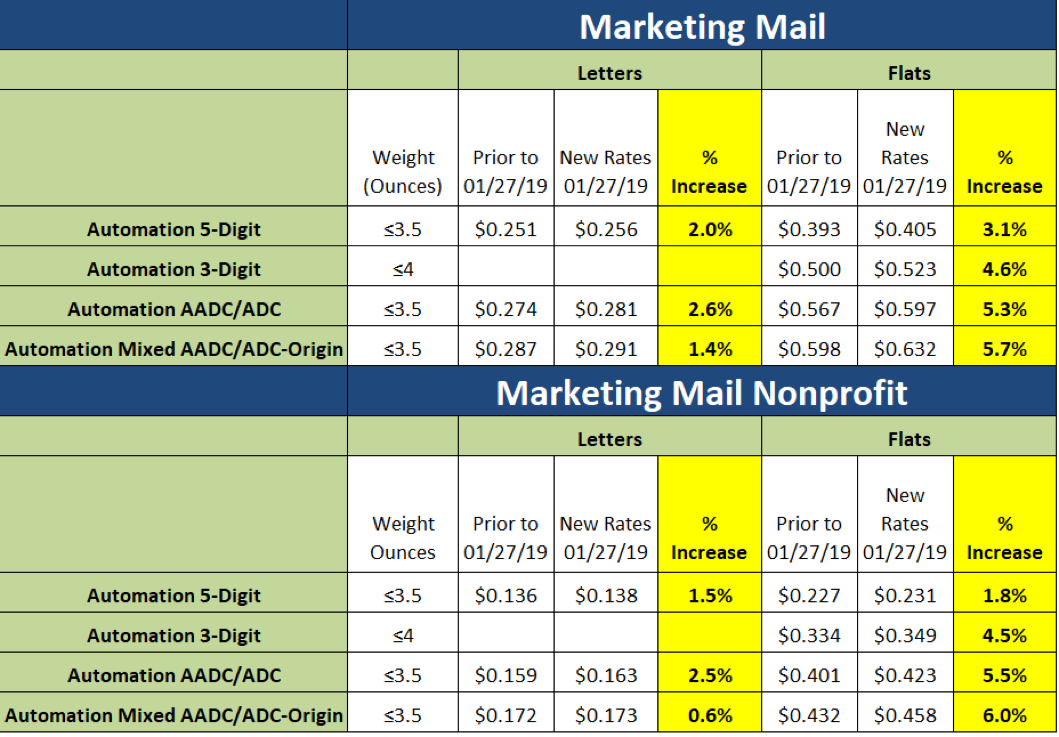 Other Rate Categories
Priority Mail: 3% decrease – 10% increase depending upon weight and zone
Priority Mail Express: 3% - 10% increase, depending upon weight and zone
First Class Mail Package Service: 1% - 28% increase
Library Mail: 2.5% - 3.2% increase
Media Mail: 4.6% - 6.0% increase
International rates remain unchanged
Questions as to how these changes will affect your ongoing programs?  Give us a call!